COVID-19 Phishing Scams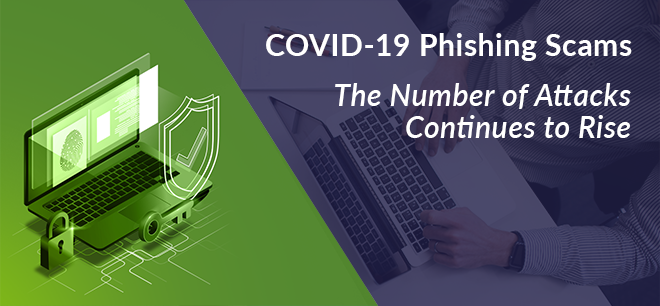 Cybercriminals are expanding their efforts to take advantage of business owners and the general public during the COVID-19 pandemic. As of April, 21st the FBI's Internet Crime Complaint Center (IC3) has received and reviewed more than 3,600 complaints related to COVID-19 scams, and the U.S. Department of Justice is continuing to warn the public to be cautious of digital scams.
Hicham Oudghiri is the co-founder and CEO of Enigma, which is a business-focused data analytics and fraud detection company. He has said, "We're talking $10 billion to $20 billion of fraud from this SBA program."
Oudghiri also stated that this number will likely climb as interest in the Paycheck Protection Program (PPP) loans, which are 100% guaranteed by the Small Business Administration (SBA), is expected to soar.
The attackers are using a myriad of tricks to create a wide variety of scams, including look-alike government websites that advertise expedited processing of stimulus package loans, fake vaccines and cures, fraudulent charity drives, and other types of email phishing scams. Some of the illicit websites utilized domain names that contained words such as "COVID-19," or "coronavirus" to attract visitors. The email phishing campaigns take advantage of the rising concerns over a possible funding shortfall of the Paycheck Protection Program (PPP).
The following is a sampling of the scams reported:
12 things you can do to prevent becoming a victim of COVID-19 scams:
Do not disclose personal data
Do not pay any fees
Validate the source
Software dos and don'ts
The COVID-19 pandemic has provided cybercriminals with new opportunities to use phishing and other social engineering techniques to trick you into giving information to someone you believe is a trusted source.
If you think you are a victim of fraud or attempted fraud involving COVID-19, call the National Center for Disaster Fraud Hotline at 1-866-720-5721. Contact the FBI's Internet Crime Complaint Center to report online fraud activity.
For more information, please email John Mendes at [email protected]