What Facebook Knows About your Photos

Srinivas Chintakindi, Manager – Technology/Products at PamTen
Taking a Closer Look at Facebook Photos
As we all know, Facebook is currently the most popular social networking website with over a billion active users. People are sharing witty stories, expressions of joy or disgust, and quick notes about items that interest them. Even more than that, they are sharing 2 billion photos a day across Facebook, Messenger, Instagram, and WhatsApp. That is, by any standard, a lot of pictures. From a personal standpoint, it's exposing your personal interests and information online for all to see. From a business perspective, keeping track of all these images is an immense task. Fortunately, there is a program which does more than just indicate that a picture is in this post. Every time a user uploads a photo in Facebook, the social media giant, uses their unique machine learning algorithm to read the actual content in that photo: meaning they identify the objects, background scenes, moods of the people, if it has any animals, etc.
Facebook's deep machine learning algorithm is capable of identifying a wide variety of details within a photograph: whether you are playing outside, eating food, relaxing in a pool, smiling, or at a party with friends. As soon as a user uploads the picture, Facebook applies the algorithm and the alt description about the photo into the image file.
Do you want to know the image content description?
If you are wondering how that affects you, in many ways, it doesn't need to. It's an automatic process. Typically, users aren't always tagging people or adding descriptions to photos on their own in the posts. But alt texts are very handy descriptions to have. If you want to view what Facebook is adding to your pictures, it's easy. You need to have an updated, current browser. Google Chrome was used here. Just follow these steps and you'll be able to see what Facebook thinks is in your pictures.
Login to Facebook and go to your personal Photos page.
Click on any photo you see, open the photo in full screen mode.
Right click on the photo and select Inspect option.
Facebook's algorithm is capable of identifying objects, food, human expressions and postures, location and more.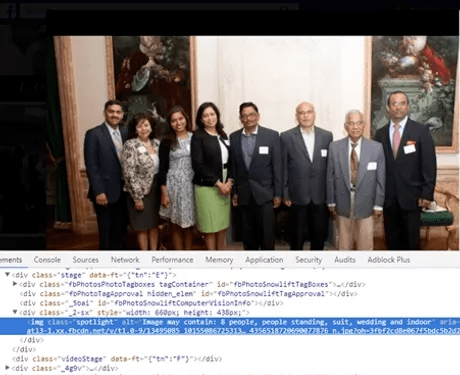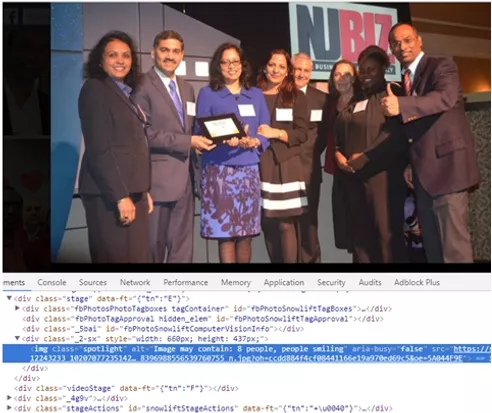 The system is very good – but not perfect. In the first image above, you'll see that it says "Image may contain 8 people, people standing, suit, wedding and indoors." All are true except for the wedding. This was at an awards event. You may not see these alt text descriptions for images uploaded prior to April 2016, because Facebook launched this service in Apr 2016.
But Why?
You may feel that this is a little intrusive, as Facebook sometimes appears that way. But there is actually a very excellent reason for this algorithm. Not only is this application an asset for Digital Marketing and Search Engine Optimization, but by providing the automatic alt text description, Facebook is expanding the participation and experience in the social network for those who can't see.
Social media has become a highly visual experience. In the beginning, it was just quick thoughts, funny experiences, messages to friends, simple text. But as cell phones became smarter, and the cameras on them became better, sharing images developed into a key element of being social. Describing food, or fireworks, or a garden could be done with a few clicks. An inherent problem is that people who are blind or visually impaired can't enjoy the visual experience of social media. They want to be a part of it, but images were just loaded with a string of numbers and no explanation of detail. Facebook is helping to address that problem.
You can find more details about the Facebook's cognitive recognition program from their developer site.
Now the Downside
While this new program has the plus of allowing screen reader software to read the alt description of images for blind users, there is a security concern. This will only aid in Facebook knowing almost everything about your photos and you. Over a period of time, Facebook will know what kind of food you like, favorite indoor/outdoor activity, the places you visit often, other people on Facebook that you are with regularly, whether you have cats or dogs or goldfish, what liquor you like to drink (or not), etc. This is a concern for many users because it feels like invasion with respect to their privacy. Based on the data Facebook collects, it is likely that they will target ads they consider relevant to you while you are on the site.
Many major companies are using a comparable machine learning service to extract the content from images for their Enterprise Applications and Mobile Applications. You can even build a similar program with less lines of code using Microsoft Cognitive services. For more information about creating a recognition app, look into Microsoft Azure and try the Cognitive Services APIs for free. Or investigate Google's Open source software called TensorFlow.
So What To Do?
Use care when uploading or tagging a photo. Most may not be aware of the consequences, but every action we do online leaves a print which stays there forever. Be vigilant and use your judgment about what or what not to share online. While this new algorithm has some very positive aspects, it does remind us to be aware and be cautious whenever you are online.